Monifieth Triathlon Club M3 Presidents Dinner and Prize-giving
24 Nov 18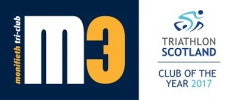 Monifieth Triathlon Club M3 Presidents Dinner and Prize-giving has now closed and you will not be able to sign-up for it. Please check the Organiser's Description for any organiser updates.
This event is in a testing state, and is not open for public sign-ups until the organiser has launched it.
Organiser's Description
This is the payment for the M3 President's Dinner and Prizegiving. Members plus their invited guests only please.
Prices
The organiser has included pricing details in the Organiser's Description
For each sign-up, the organiser pays the Service Fee of 4% (min 50p). You pay no surcharge
Dates and Status
Date: 24/11/2018
Status: Closed
Total Places: 60
Places Available: ??