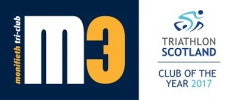 Monifieth Triathlon Club M3
Organiser's Description
Joining one of Scotland's best triathlon clubs couldn't be easier. Click below to go to the membership application form. Please be sure to read to the bottom of this page as there is important information about the staightforward membership conditions which all prospective members agree to on submitting their application to join Monifeth Triathlon Club.
M3, Monifieth Triathlon Club celebrates it's 10th Anniversary this year. We first formed in January of 2010; and have always strongly promoted an inclusive philosophy. We welcome people of all backgrounds and experience, for novice to Ironman, newbie to elite. We are based in Monifieth, near Dundee in Scotland and benefit from the excellent training and racing facilities on offer in Angus, Dundee, Perthshire and Fife, and have members from across the area.
The club is fully affiliated to the national governing body for triathlon in Scotland, 'triathlonscotland' We picked up the prestigious 'Club of the Year' award in only our first year, and have followed this up by organising "Most Enjoyable Event of the Year 2015", "Legends Club of the Year 2016" and "Best Event of the year 2016". We added to this in 2017 again being awarded coveted Club of the Year 2017, and were re-awarded the right and responsibility of hosting the Scottish Sprint Championship in 2018, 2019, and 2020.
We have strong team of 9 triathlon coaches all trained and acredited by TriathlonScotland. This network allows us to offer coaching and training in all three disciplines and promote the sport at a local level.
You should note that when becoming a member of Monifieth Tri Club we automatically forward your details to TriathlonScotland for their records. To obtain your full TriathlonScotland membership for individual benefits such as race entry discounts and personal insurance you need to take out British Triathlon Scottish individual membership here. We actively encourage all active M3 members to take this out as by doing this, you'll not only benefit from the personal incentives but also ensure the club's continued close working relationship with Triathlon Scotland
Prices
see
Info
For each sign-up, the organiser pays the Service Fee of 4% (min 50p). You pay no surcharge