Monifieth Triathlon Club M3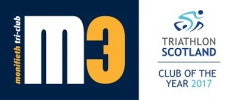 Organiser's Description
Joining one of Scotland's best triathlon clubs couldn't be easier. Click below to go to the membership application form. Please be sure to read to the bottom of this page as there is important information about the staightforward membership conditions which all prospective members agree to on submitting their application to join Monifeth Triathlon Club.
M3, Monifieth Triathlon Club was formed in January of 2010; we have an inclusive philosophy and welcome people of all backgrounds and experience, for novice to Ironman, newbie to elite. We are based in Monifieth, near Dundee in Scotland and benefit from the excellent training and racing facilities on offer in Angus, Dundee, Perthshire and Fife, and have members from across the area.
The club is fully affiliated to the national governing body for triathlon in Scotland, 'triathlonscotland' We picked up the prestigious 'Club of the Year' award in only our first year, and have followed this up by organising "Most Enjoyable Event of the Year 2015", "Legends Club of the Year 2016" and "Best Event of the year 2016". We added to this in 2017 again being awarded coveted Club of the Year 2017, and were re-awarded the right and responsibility of hosting the Scottish Sprint Championship.
We have strong team of 9 triathlon coaches all trained and acredited by TriathlonScotland.This network allows us to offer coaching and training in all three disciplines and promote the sport at a local level.
You should note that when becoming a member of Monifieth Tri Club we automatically forward your details to TriathlonScotland for their records. To obtain your full TriathlonScotland membership for individual benefits such as race entry discounts and personal insurance you need to take out British Triathlon Scottish individual membership here. We actively encourage all racing M3 members to take this out as by doing this, you'll not only benefit from the personal incentives but it also increases our chances of finishing higher up the national club leader-board at the end of the season, thus giving us a higher profiie and greater bragging rights!
IMPORTANT INFORMATION - By joining the club, you acknowledge this information, and agree to the underwritten terms.
Code of Conduct for Members of Monifieth Triathlon Club
As a responsible member of Monifieth Triathlon Club I undertake to:-
Respect the rights, dignity and worth of every athlete, coach, technical official and others involved in athletics and treat everyone equally
Consistently promote positive aspects of the sport such as fair play and never condone rule violations or the use of prohibited or age-inappropriate substances
Act with dignity and display courtesy and good manners towards others
Avoid swearing, abusive language, naming others inappropriately and irresponsible behaviour including bullying and harassment
Challenge inappropriate behaviour and language by others
Ensure communications via social media e.g. Facebook, Twitter and similar platforms comply with the above consideration for others.
Not conduct myself in such a way whilst representing the club as to bring it otherwise into disrepute
Agree to relinquish my membership of Monifieth Triathlon Club if found by a majority of the Committee to be in breach of these undertakings
Disclaimer
Cycling and cycle sports are by their nature dangerous and accidents can occur to participants – Monifieth Triathlon Club require all members to maintain their own equipment, and obey the rules of the road. A cycling proficiency course is advised. To assist all road users, members and participants in events should ensure they wear a helmet, and use other protective clothing and lights where appropriate. It is your responsibility to maintain your equipment properly.
All rides are at your own risk. Monifieth Triathlon Club cannot be held liable for any injury, loss or damage caused or sustained as a result of participation in club activities. Please ensure that you have your own third party insurance (check your house insurance) and consider Triathlon Scotland membership. You may aslo wish to consider CTC or British Cycling membership.
It is your own responsibility to ensure that you comply with safe practice whilst swimming, especially in open water conditions through the use of appropriate kit and equipment including where appopriate a well maintained wetsuit and visability aids. We require all members to follow basic swim safety and "pool etiquette" whilst training with the club in a pool environment.
Information Usage
Monifieth Triathlon Club respects the importance of your privacy and will not collect personal information when you access the web site homepage and browse the web site contents. Monifieth Triathlon Club will only use personal information to provide you with Monifieth Triathlon Club services. Personal information will not be passed onto third parties. The training video analysis consent form is available for download here.
Prices
see
Info
For each sign-up, the organiser pays the Service Fee of 4% (min 50p). You pay no surcharge