Harwich Sprint Triathlon
23 Jun 19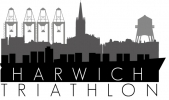 Harwich Sprint Triathlon has now closed and you will not be able to sign-up for it. Please check the Organiser's Description for any organiser updates.
This event is in a testing state, and is not open for public sign-ups until the organiser has launched it.
Organiser's Description
Harwich Sprint Triathlon:
SAME VENUE AND COURSE AS 2018.

• Date: 23/06/2019.
• Start time: 9:10 AM first swimmer.
• Registration will close at 8:50 AM.
• Cost per competitor: £35.00 (including BTF licence) or £30.00 if BTF Member.
• Collector item quality Medal for all finishers.
• Refunds less £10.00 will be an option until 20/5/2019
The Harwich Sprint Triathlon is promoted by Harwich Runners and based at the Dovercourt Swimming Pool now renamed Dovercourt Bay Lifestyles. There is a spacious transition area adjacent to the pool. The pool swim and traffic free run course makes it an ideal race for novices. The event will benefit from chip timing and as the race is very popular we expect the entry list to fill up. On reaching the entry limit we will keep a small waiting list to replace those who may have to withdraw.
The event has been staged since 2006 and always draws praise for being well organised and friendly.
Distances - 300m swim, 24k bike, 5k run.
Swim
Ladies will go first as this will assist with getting out prompt results and prizes. Start times will be seeded with the slower swimmers starting first. Swim starts will be spaced 30 seconds apart so the need for overtaking should be minimal. You will swim up on the right of the lane and back down the same lane on the right. At the end of each 2 lengths, you will move under the ropes into the next lane and continue until you have swum in all 6 lanes, making it a 300m swim. Swim start times will NOT be published until race day.
Cycle
A single lap road course, totalling 24km. The cycle course is mainly on rural roads, a single lap of 24km through Wrabness, Wix and Little Oakley.
Run
A single lap fast run along the promenade.
Race Briefing and registration: the registration will open at 8:00am and will close promptly at 8:50am. If you are not registered by this time you will not race. The race briefing will take place near the transition area at 8:50am.
Prizes
Medal for all finishers. There are trophies for first, second and third overall male and female. There will be smaller trophies for age group winners.
Entry Limit - 220 competitors

Results are usually available very quickly and, barring technical problems, presentations will take
place soon after the last entrant finishes.
Rules
This event will be held under the rules of the British Triathlon.
Your bicycle must be in a mechanically safe condition.
An approved cycle helmet must be worn on the cycle section. NO HELMET NO RACE.


Full rules can be found at www.britishtriathlon.org, or by writing to British Triathlon, P.O. Box 25, Loughborough, Leicestershire. LE11 3WX.
Racers who are not members of British Triathlon must purchase a 'day licence' at a cost of £5 to provide insurance for your event (this fee is automatically included if you do not provide a British Triathlon membership number on entering).
Full Race instructions and results will be available on Harwich Runners Triathlon Website. http://www.harwichrunners.co.uk/triathlon
Prices
| Until | Discounted* | Standard |
| --- | --- | --- |
| 20 Jun 2019 | £30.00 | £35.00 |
*Discounted for members of any of TE WT TS
For each sign-up, the organiser pays the Service Fee of 4% (min 50p). You pay no surcharge
Dates and Status
Date: 23/06/2019
Status: Closed
Total Places: 220
Places Available: ??
List