GIRLCODE BOX Bootcamp June Sunday
18 Jun 2023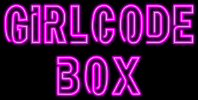 GIRLCODE BOX Bootcamp June Sunday is now full, but you may join the Waiting List.
Organiser's Description
THE BIG GIRLCODE BOX BOOTCAMP IS BACK
3 Hours of fitness fun at GIRLCODE BOX, this Bootcamp is for all fitness levels and open to non members too.
We have 3 fun fitness workouts planned
Boxing Fitness
Booty Builder
Team Work makes the Dream Work
Date: Sunday the 18th of June
Cost : £25
Time : 1-4pm
Everyone will receive a medal and certificate on completion
You will all also get a protein snack in your break to fuel you up before the final Team Workout.
Link below to sign up (still to do this)
Why not sign up a friend as a Christmas Gift, a certificate via email can be provided on request, the perfect Christmas Gift for the ones you love 😂🫶🏼💖👌💪🏆.