Foxlake Night Triathlon
25 Sep 2020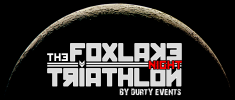 Organiser's Description
Foxlake Night Triathlon - Friday 25th September 2020
Brought to you by the team behind the Craggy Island Triathlon, Aviemore Triathlon and The Dramathon.
COVID19 - Please note: the race will be subject to appropriate Covid19 related social-distancing to help keep you and us safe. We will monitor Government guidance and apply it as current at the time of the event. But, you should expect some changes from a 'normal' race - e.g. time trial starts, no in-person race briefing, no prize-giving, bring and carry your own water + nutrition etc.
The World's First* Night Triathlon

Yep, you read that right. A Triathlon. In the Dark. Will this be the bestest thing since sliced bread, or a total disaster?. We've no idea. But let's give it a go again and see what happens.

*We think. A cursory and half-hearted Google didn't throw anything obvious up.
FORMAT
This is where it gets interesting!. This is off-road Triathlon like you've never, ever, seen it before!.
We'll start just after dusk. Leave the stresses and strains of the working week behind you, and come and do something spectacularly stupid.
A short course open-water off-road triathlon, all elements of which will be in the dark. We'll sort you out with a glowstick to put in your swim cap, and we'll floodlight the lake a bit. Lights for the bike and run sections are your problem. Our advice: bring some.
The course will be short - we're aiming for times of around 30-40 minutes. Yep, that's for the whole lot..... Swim, Bike and Run. Take it as fast or as easy as you like - on the rivet, or in the comfort zone. Either way, this should be fun.
Then we'll go for some beers. On-site camping will also be possible after the race.
The course will be:
- approx 200m Open Water Swim (don't worry, the lake is shallow, so will be warm enough)
- approx 4km Mountain Bike (nothing wildy technical, but will be tricksy enough to catch you out if you hit it hard!)
- approx 2km Trail Run
ROUGH TIMINGS
5pm - 6:45pm - Race Registration @ Foxlake
6:59pm - Sunset
7:15pm - Race Start
7:40pm - First Finisher
8:15pm - Last Finisher
08:15pm - Prize-Giving (socially distanced :))
08:17pm - BEERS & CAMPING :)
LOCATION
Foxlake Adventures Wakeboard Park - a privately owned watersports centre with great facilities for triathlon, including a beautiful clean open water lake surrounded by grassland and forest. The courses are entirely contained within the grounds, and are completely off-road, so are nice and safe (as well as being in a really pleasant location - not that you'll be able to see it!).
Foxlake is next to Dunbar in East Lothian, so is easily accessible via the A1 (literally seconds away!) from the Central Belt of Scotland, North East of England, and the Scottish Borders.
The on-site facilities are superb, and include a cafe, toilets and showers. There's loads for family and spectators to do including Wakeboarding, Foxfall ropes obstacle course, Disk Golf and just mucking around in the woods.
U16's
We are very happy to accept entries from U16 athletes (minimum age 11), on the following conditions;
- They are accompanied by an adult at all times on the course
- We're only running age groups as Seniors, Veterans and Super Vets, so younger athletes will just be grouped in with the Seniors for results purposes.
- Nae booze!
WEBSITE
More race details are available at http://www.durtyevents.com/event/foxlake-night-triathlon/
T&Cs Please see www.durtyevents.com/terms-and-conditions for details of the full Terms & Conditions associated with event entry, including refund, cancellation, withdrawal and transfer policies.
Entries are not transferable. Photographic ID may be requested at race registration.
Entrants wishing to withdraw must inform the organiser by email. Entry fees will be refunded or transferred as follows; up to (1 month prior to race date) 75% refund (less any Entry Central or SI fees), up to (2 weeks prior to race date) 50% refund (less any Entry Central or SI fees). After (2 weeks prior to race date) - no refund.
If the event is cancelled for reasons beyond the organiser's control, (e.g. adverse weather conditions, major incident etc.) the organisers will make every reasonable attempt to reschedule the event. Original entrants will have their entry automatically transferred unless they advise Durty Events that they do not wish to transfer to the rescheduled event in writing (email to info@durtyevents.com) within 7 days of the original event date.
In the event of cancellation, original entrants may, at the sole discretion of Durty Events be offered an entry transfer of equivalent value to an alternative event in the companies' portfolio.
In all cases, Durty Events reserves the right to charge a small administration fee (typically £5) to cover costs associated with card repayments and refund administration time.
No refunds will be granted after one month has passed from the event date.
Changes to entry details, and transfer of the entry to other events in the Durty Events portfolio may be possible with the permission of the organiser. There will be a small admin fee for this service, payable in advance. Please see the full Terms & Conditions for details.
Prices
To sign-up for this event, the Service Fee is 4% (min 50p) for each sign-up
Dates and Status
Date: 25/09/2020
Status: Open
Total Places: 140
Places Available: ??
List
Hedderwick Hill Stables, Dunbar, East Lothian, EH42 1XF