Edinburgh#3 Family Ceilidh and Annual Awards Night
23 Nov 2019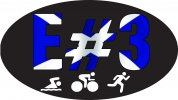 Edinburgh#3 Family Ceilidh and Annual Awards Night has now closed and you will not be able to sign-up for it. Please check the Organiser's Description for any organiser updates.
This event is in a testing state, and is not open for public sign-ups until the organiser has launched it.
Organiser's Description
It's been another great year for Edinburgh#3 - many new people taking part in new events and lots of podium places throughout the year for many too. Let's celebrate with a Ceilidh!
Our annual E#3 Awards Night and Ceilidh will be held at Bainfield Bowling and Social Club on Saturday 23rd November and will run from 7.30 - 12.00pm.
Tickets are £15 for adults and £10 for under 18s. The price of your ticket will include the Ceilidh and a 2 course buffet style meal. Feel free to invite friends and family to our special night too, the more the merrier. We look forward to a great night.
Tickets sell out fast for this event so don't delay buying them!
The dress code is "dress to impress"...!
Any questions please contact Adrienne Turner (adrienne.turner@hotmail.co.uk) or Kirst MacArthur (kirstmacarthur@hotmail.com) speak to one of the coaches at the club.
NB/ The expectation is that younger members of the club are accompanied by their parent(s).
Prices
| Until | Full Price | Concessions |
| --- | --- | --- |
| 16 Nov 2019 | £15.00 | £10.00 |
For each sign-up, the organiser pays the Service Fee of 4% (min 50p). You pay no surcharge
Dates and Status
Date: 23/11/2019
Status: Closed
Total Places: 100
Places Available: ??
Organiser
Kirsten MacArthur
07962260769
Bainfield Bowling and Social Club 34 Hutchison Crossway Edinburgh EH14 1RU