East Fife Tri Club 2016/2017 has now closed and you will not be able to join
East Fife Tri Club 2016/2017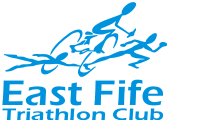 East Fife Triathlon Club is a small and friendly triathlon club based in Cupar, Fife. Membership is now open for 2016-17. Our members range from novice right up to age group world champions. Members participate in all distances from sprint, standard, half and full ironman. A wealth of knowledge and experience is given out by our trained coaches at club sessions throughout the week. The minimum age is 14, for the adult club and 7-18 for the East Fife Triathlon Juniors Club.
The club year runs until the end of September. There are now four tiers of membership: Standard Membership is £100 for the full year and includes free access to all coached and un-coached pool swim sessions run by the club. This is currently three sessions a week, but can change to suit demand. The £100 membership can be split into 5 monthly payments, with the first taken by card here. All subsequent payments must be made by standing order on a monthly rolling basis. When you join via this method you will be seen as a Standard member and therefore expected to pay the balance on a monthly basis until you reach £100. Example: If you join in October you will be finished paying for your membership in February. Instructions on how to set up the direct debit will be included in an email sent by the Chairman shortly after joining he club.
NB From 1st June 2017, the cost of the full fee will be reduced to £60 for the remainder of the year (until end Sept). If you wish to join the club in September, please contact us as the new membership year will be starting soon and we will run through the options with you.
The third option for joining the club is to join as an honorary member £20.00. This entitles you to no swim training, but does allow you to support our club and race under our club banner.
The fourth membership option is for children aged 7-18. £20 membership to join for the season which gives you access to classes at the reduced membership rate. Classes on Fridays and Saturdays/Sundays. Please check out the EFTCJ Facebook page for more information.
Please remember - you have to renew any race licence direct with triathlonscotland, not through the club.
We have a couple of questions in the membership form about how long, if at all, you've been a member, and whether you can help at the Cupar triathlon in April
The success of all events relies on members helping out with organising, marshalling and helping in many different ways. As a member we ask you to help at these races. It's also a terrific way to meet other members! Club members certainly do race at these events but we generally ask that if you race, you provide a nominated marshall (or two) to help out.
Please take the few seconds required to complete the boxes - your club needs your help at these events.
For more information on us go to the club website at http://www.eastfifetriclub.com or find us on Facebook at www.facebook.com/groups/eastfifetri/