Monifieth Triathlon Club - Youth Section (August-October)
03 Oct 2019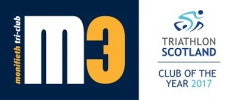 Monifieth Triathlon Club - Youth Section (August-October) has now closed and you will not be able to sign-up for it. Please check the Organiser's Description for any organiser updates.
This event is in a testing state, and is not open for public sign-ups until the organiser has launched it.
Organiser's Description
This is the payments facility for a Monifieth Triathlon Club (M3) Youth Section Block One (August 22nd 2019 - October 3rd 2019)
YOUTH Triathlon session (8-16 YEARS)
Dundee and Angus College. Gardyne Rd., Dundee
Thursday's 18.00-19.30
Running and cycling round the back of the Gardyne first and then heading to the swimming pool in the Gardyne.
Price:
Block Booking
August 22nd - October 3rd £22.40 for 7 sessions (£3.20 per session)
We welcome youth triathletes wanting to try out our sessons as "tasters". We would like to invite our trailists who enjoy the experience (and who wouldn't) to join Monifieth Triathlon club to continue to benefit form these coached sessions. Just click here!
We encourage all M3 members to join Traithlon Scotland. To obtain your full TriathlonScotland membership for individual benefits such as race entry discounts and personal insurance you need to take out British Triathlon Scottish individual membership here.
By siging your child up you are agreeing that you have read the following notes and give consent for your child to take part in the coaching sessions. You understand and agree that your son/daughter/child, participates in coaching sessions under the instruction of Triathlon Scotland coaches entirely at his/her own risk. You have considered the nature of such sessions and have discussed them with your son/daughter/child. you are satisfied that they are sufficiently responsible and competent to assume full and entire responsibility for their own safety under the supervision of a Triathlon Scotland coach.
Notes
You are giving consent for the child named below to participate in coaching sessions.
It is part of the Code of Practice for Triathlon Coaches to ensure that reasonable steps are taken to establish a safe environment where young participants can enjoy developing their triathlon skills. The parent(s)/guardian(s) is welcome to stay and watch the session, but this is not compulsory.
Young participants are expected to remain in the session from beginning to end, unless they have to leave early. If the participant has to leave early or is being collected by someone other than the parent/guardian, the parent/guardian must advise the coach of the details of the arrangement, including who will be collecting the participant.
Any young participants who persistently misbehave or put others in danger will be asked to leave the sessions and will not be allowed to attend in future.
The data entered on this form will be held by Monifieth Triathlon Club and shared with coaches, personnel and relevant parties who may require to access and use the information in the event of an accident or emergency.
please read the disclaimer
Event Protect
This event is protected with Event Protect
Event Protect is the industry standard in event cancellation for Primary Ticket Agents, Secondary Ticket Agents, Events, Travel Package Providers, Venues and Sports Teams. Seeing the Event Protect trademark logo means that if the event is cancelled / postponed / abandoned or curtailed due to circumstances outside of our control, Event Protect will provide ticket holders with a quick refund directly to their chosen bank account, no matter the financial state of the Event Organiser or Ticket Agent. This includes booking fees and any extras if booked as part of an event package. To find out more information about Event Protect, please visit our website
Prices
To sign-up for this event, the Service Fee is 4% (min 50p) for each sign-up
Dates and Status
Date: 03/10/2019
Status: Closed
Total Places: 28
Places Available: ??
List