BCT - Black Country Triathletes September 2021 Sprint Triathlon
05 Sep 2021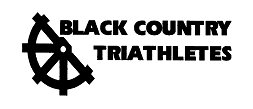 This Festival is in a testing state, and is not open for public sign-ups until the organiser has launched it.
Organiser's Description
BLACK COUNTRY TRIATHLETES - SPRINT TRIATHLON
400M SWIM - 20K BIKE - 5K RUN
YOUTH ENTRANTS MUST BE AGE 15 ON THE DAY OF THE RACE
A Fast, Mildly undulating course over a well-tested course and a cracking trail based off road run. Great atmosphere with excellent facilities
Included in the race fee for the Black Country Sprint Triathlon is a free novice triathlon training session.

This will take place at the race venue on a Saturday afternoon on the 14th August 1300-1700

The session will help you get the maximum enjoyment from the event and will cover the following:

How the race venue is laid and what to expect

A guide to the basic equipment needed to complete your first triathlon

A transition demonstration. How to mount /dismount your bike and layout your race kit. (You bring your own bike so that you can practice)

A short pool swim technique session to focus on improving your current stroke, either front crawl or breaststroke

The session runs from 1300-1700 with the club's level one and two coaches.
You will be contacted once you have entered the event about attending the training session
Details of how BCT will store and process your personal data can be found in our privacy policy http://www.blackcountrytriathletes.com/documents.html
Prices
| Until | Discounted* | Standard |
| --- | --- | --- |
| 31 Jul 2021 | £40.00 | £45.00 |
| 01 Sep 2021 | £45.00 | £50.00 |
| 03 Sep 2021 23:59 | £50.00 | £55.00 |
*Discounted for members of any of TE WT TS
| Until | Discounted* | Standard |
| --- | --- | --- |
| 31 Jul 2021 | £33.00 | £36.00 |
| 31 Aug 2021 | £35.00 | £38.00 |
| 02 Sep 2021 23:59 | £37.00 | £40.00 |
*Discounted for members of any of TE WT TS
To sign-up for this event, the Service Fee is 4% (min 50p) for each sign-up
Dates and Status
Date: 05 Sep 2021
Places Available/Total: ??/290
Status: Closed
| Event | Closing Date |
| --- | --- |
| BCT - Black Country Triathletes September 2021 RELAY Sprint Triathlon | 03 Sep 2021 23:59 |
| BCT - Black Country Triathletes September 2021 Sprint Triathlon | 02 Sep 2021 23:59 |
List